BAND BIOS
Johnny Kray's Bio
Plus a band history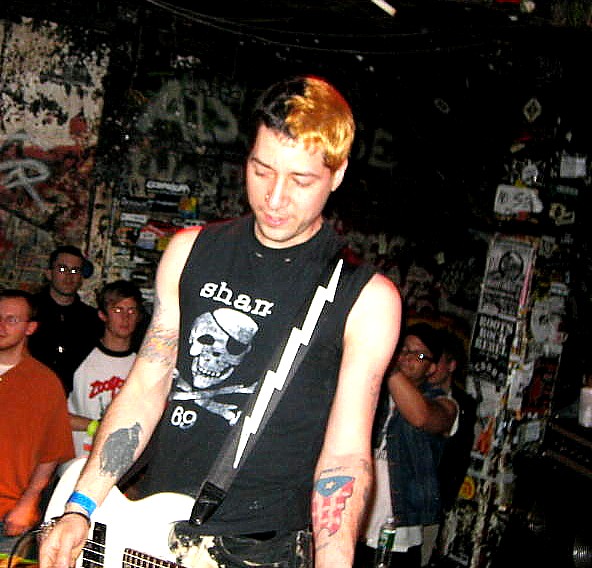 | | |
| --- | --- |
| | |
OK, so people have asked for a bit more info on us crazy freaks so here we go. Favorite albums. Can's say I have one because I have a ton of records I love. Old Metallica is high on the list these days. I love just about everything from The Jam but the 1st Lp "In The City" and the 4th "Setting Suns" are my favorites. The Ruts Peel Sessions record. The Cro-Mags "Age Of Quarrel" is a top for me. Legacy of Brutality is a Classic to me also (Misfits). See , there is just too many to out down.
Favorite movie is tough but I would say the Warriors and Escape From New York are my all time favorites. I've read a ton of books, I use to love fantasy and Horror books as a kid. When I was a kid I loved the original Dragonlance "Chronicles "series. One of my favorite novels is William Gibson's "Neuromancer". It's a great novel and details the way the world has actually become as far as computers and stuff. I also love just about every novel I've read by Philip K. Dick. ( And I've read 13 or 14 of his novels ) Right now I'm reading "Again, Dangerous Visions" a collction of short stories editied by Harlan Ellison who is a short story writer I think is great . "Death Bird Stories" is one of his books. Favorite sports team is the New York Mets. I know, they ain't good now but they used to be and they will again sometime. Screw fair weather fans. Mets Rock!! New York Giants on are my football team. Scoty's too.
I also like alot of old salsa music, I guess because my grandfather was a timbale player most of his life and sonce I was a baby I watched him perform and practice. My favorite singer is Hector Lavoe!
What else can I say about myself. Genius comes to mind often. Just kidding! Well I started playing drums when I was a little kid, since I was around 6 or 7 years old. My Grandfather was a salsa timbale player and my uncle is a rock guitar player, so music was always in my life and in my blood.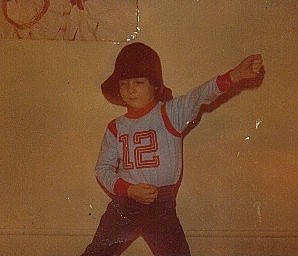 That's me rocking out, destined to be a rocker, even since kindergarden. I started playing drums when I was around 6 or 7 years old but didn't get serious till I was about 13 when a friend from elementary school said he could play guitar and wanted to start a band. He had a guitar yes, but he couldn't play it at all. So I borrowd it and learned how to play it. The first song I learned was "For whom the bell tolls" by Metallica. The easy bits anyway. Then I taught him how to play. After a few years I got better and I think I was 18 when I started the Krays with my friend Albee. He use to be a drummer also that learned to play guitar and one of the only musicians around brooklyn at the time that wanted to play punk rock.

Hey folks, thats me with Murat and Tom, my friend and
engineer on all the Krays albums

The Rel-X & Krays on Tour in Europe
Fredz(the French tour manager) Me,
Adi, Murat, Geaton and B.J